Porsche 997 Gt3 42R and 40R Engines
These two engines differ in displacement, but both use a lot of common parts. This is our version of the Porsche GT3R and RSR engines.
New parts in development are crankshaft, titanium rods, 2-ring pistons, cylinder liners, larger oil pump, cylinder head modifications, new valve train including titanium valves, spring retainers, valve springs, solid cam followers, and camshafts. A new carbon intake and a new stainless exhaust system are also in development.
Porsche 997 GT3 42S and 40S Engines
Like their race versions, these two engines differ in displacement. Both are designed for street application. Both engines use many of the R engine components, including the crankshaft, cylinder liners, and some valve train parts. The S versions use steel connecting rods, the factory oil pump, a 3-ring piston, and the hydraulic valve train components.
991 GT3 Finger Follower Upgrade
We originally wanted to upgrade these engines to similar levels as the 997 engines we have in development. However, in the initial analysis of this engine we recognized an issue with certain valve train components.  Subsequently, many owners have had issue with this problem resulting in engines being exchanged and lately cylinder heads being replaced. We have designed an alternative finger follower system that we retro fit the 991.1 engines system and the parts are currently in production. Further information will be available once the testing schedule is completed.
991 GT4 44S
This engine is currently in development and the design of the internal parts is now completed and these parts are currently in production. This engine uses the radius follower for the valve actuation, so the development of this engine could go ahead as planned. New crankshaft, steel connecting rods, 3 ring DI pistons, along with valve train parts to be installed in modified cylinder heads are included in the scope of this engines development. Some parts will be made available individually, including modified cylinder heads with the new lightweight valve train. These will be our version of the factory X51 parts.
991 GT3 and Turbo
Once we have successfully tested the GT4 parts and the new GT3 Finger follower parts, these two engines will be included in our full engine development schedule. Some of the parts in the GT4 engine development will cross over to the GT3 engine and the turbo engines have their own components designed for this application. The turbo crankshaft, connecting rods and pistons are currently in production.
McLaren 12C 43S
We are currently assembling this V8 engine with larger displacement using our own crankshaft, titanium rods, cylinder liners, pistons, valve train parts and modified cylinder heads. New exhaust and turbochargers are included in this development. We have decided to make available the upgraded cylinder heads and camshafts for this engine as a stage 1 upgrade to other McLaren owners who wish to limit the upgrade to just the cylinder heads.
1975 Porsche 911
This is the project that we are most excited about. It brings it all back to the basics and the reason we do this work. Our passion is re-ignited and we love what simplicity in engines was. Most of the work we will do is repair work, as these early engines typically require. We intend to include some of the modern ways to lower friction, help with oil cooling and engine durability. This is going to be our way of making an early Porsche air cooled engine be part of a modern generation without losing its originality.
996/997 Turbo multi butterfly Intake system for race engines.
We are currently in the process of developing a carbon intake system for our race engine customers. This system will retain the FBW throttle control but have 6 individual throttles, one per cylinder. This will increase throttle response in these turbocharged engines. Airflow is dramatically increased per cylinder along with equalizing the volume per cylinder.
When the throttles are closed, the plenums will still be charged and maximum air volume and pressure will be at the throttle blades just above the cylinder head inlet tract. Once testing is completed for the 6 butterfly system, an 8 butterfly system is included in the development schedule.
A similar system is in design for the NA GT3 engines.
It is hoped that either system can be modified to fit the 9A1 engine variants.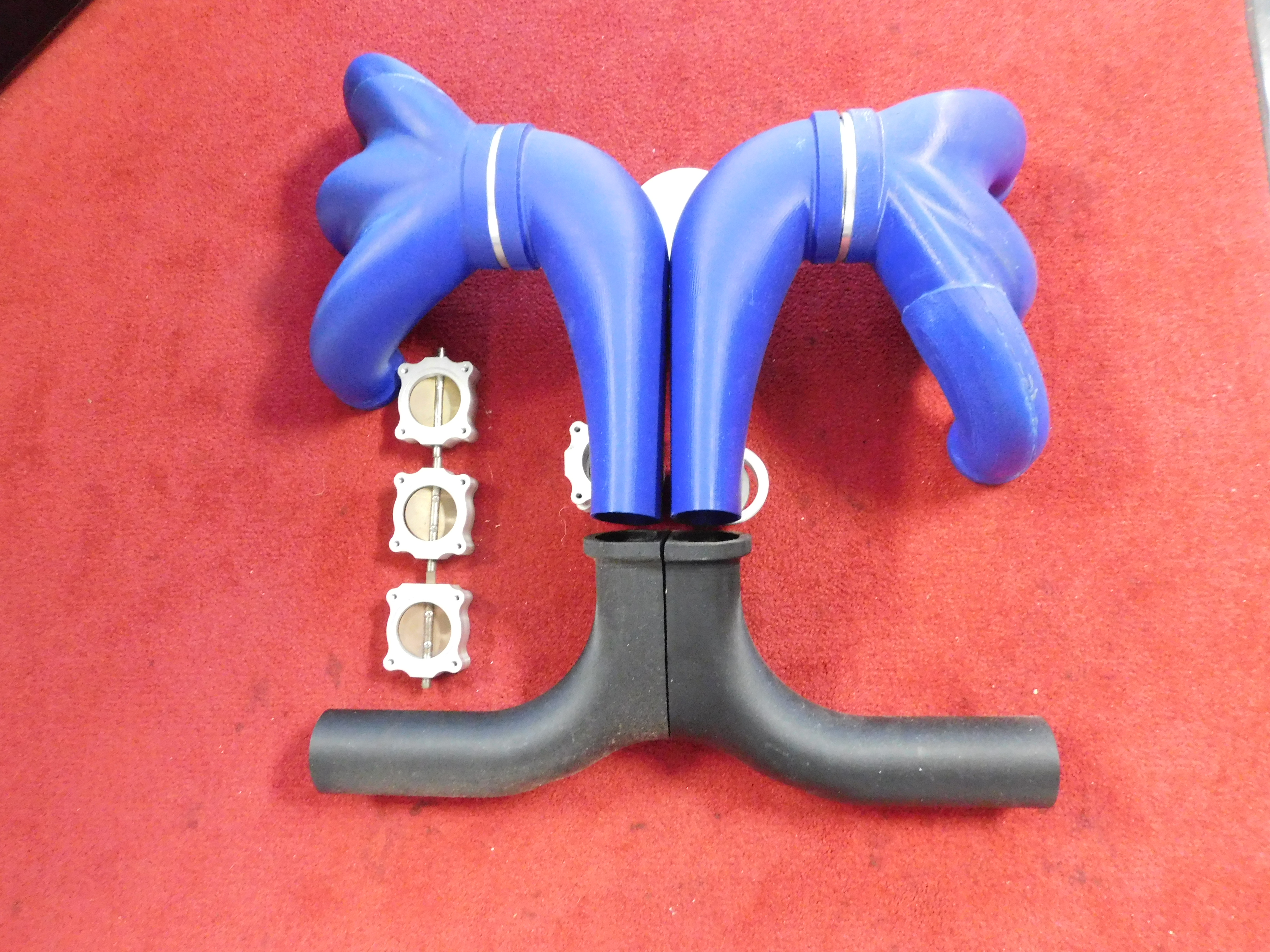 Follow the progress of these engines in our current engine blog.